Private Wealth Credit Card | Earn an annual income of R1 500 000+
---
Join the extraordinary
side of banking
Choose banking that's been uniquely designed for the remarkable individual. Experience solutions that
go further and provide the services your lifestyle really needs. Our Private Wealth Credit Card offers it all.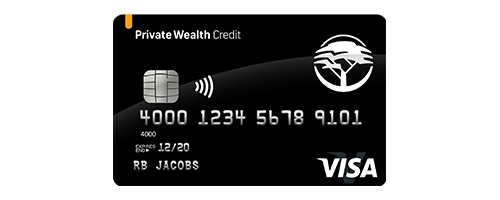 Enjoy the finer things in life
---
Soak up the benefits eBucks Lifestyle offers you when you have a Private Wealth Credit Card.
Contact eBucks Lifestyle on 087 575 0050 to experience the exclusive service. Terms, conditions and rules apply.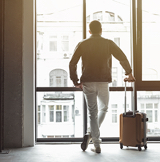 Travel in style
Let us help you book flights and accommodation. Get Avis Point2Point transfers.
Read more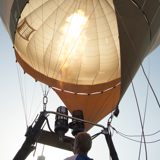 Live the life you want
Life is more exciting with eBucks Lifestyle. We'll help you pick out that perfect gift, source event tickets or organise experiences - we've got you covered.
Rewards
---
As a Private Wealth Credit Cardholder, you get access to the next level of rewards. Earn eBucks on all of your credit card purchases and enjoy massive discounts on vouchers, tech gadgets, travel deals and more, plus local and international flights.
Terms, conditions and rules apply.
Get more out of banking with us
---
Maximise your rewards with a Private Wealth Cheque and Credit Card bundle. You'll enjoy better, all-inclusive value with the Private Wealth Bundle at a single discounted fee. This includes your complete day-to-day banking product suite, free additional cards and more included transactions as well as better rewards and benefits.
Private Wealth gives you more...
---
As a credit cardholder, you automatically enjoy a host of benefits, ready to make banking and life as easy as possible. Also sign up for 5 FREE additional credit cards and petro cards.
Comprehensive Global Travel Insurance
Make controlling your finances easy
---
Securing your banking journey
---
We use a number of security measures to safeguard your banking with us, in order to prevent fraud and protect your personal information. Here's what you need to know:
The power of convenience
---
Your credit card is as versatile as you are. Use it effortlessly to bank, 24/7.
Applying made easy
---
Private Wealth Credit Card
Qualifying criteria
Earn an income of R1.5m or more per year to qualify

OR have a net asset value in excess of R15 million.
Ways to apply
Apply now!
Other ways to apply
Apply on the FNB Banking App
If you're an existing customer contact your Private Banker
Private Wealth Service Suite 087 730 6000
Your nearest Private Wealth office
Documents needed
South African ID book (bar-coded)/valid South African passport (SA resident)

Passport with valid work/retirement permit (non-SA resident)

Proof of residence (in your name, and not older than 3 months)

Latest payslip or last three months' bank statements
First National Bank - a division of FirstRand Bank Limited. An Authorised Financial Services and Credit Provider 1929/001225/06 (NCRCP20).