Gold exposure
Global markets have been challenging to navigate over the past year and have seen investors explore other asset classes to reduce portfolio volatility as uncertainty remains. One such diversification tool is gold; with the rand price of gold reaching record levels in 2020, investors have been pondering if gold is a good investment currently and how to gain exposure.
Why invest in gold?
Gold is a commodity that is favoured in times of extreme volatility. It is seen as a safe haven for investors and its price tends to increase when uncertainty results in diminished returns in other asset classes. As gold is valued in dollar terms, a depreciation in the rand is positive for returns.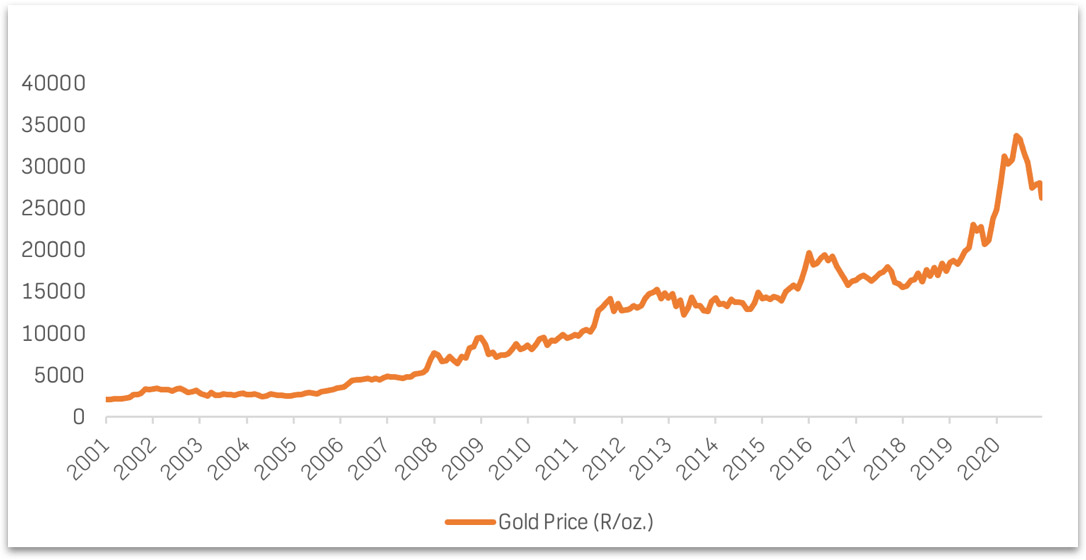 Source: Bloomberg
While the above graph makes it seem as though gold only moves in one direction, the reality is that the gold price in rand terms will fall when the rand strengthens, or conditions normalise. The price of gold can move sideways for years while the market moves up. Gold should therefore be viewed more as a diversification tool when the underlying commodity has performed very well over a given period and the rand is weak.
20 year gold price in USD/oz. and the USD/ZAR exchange rate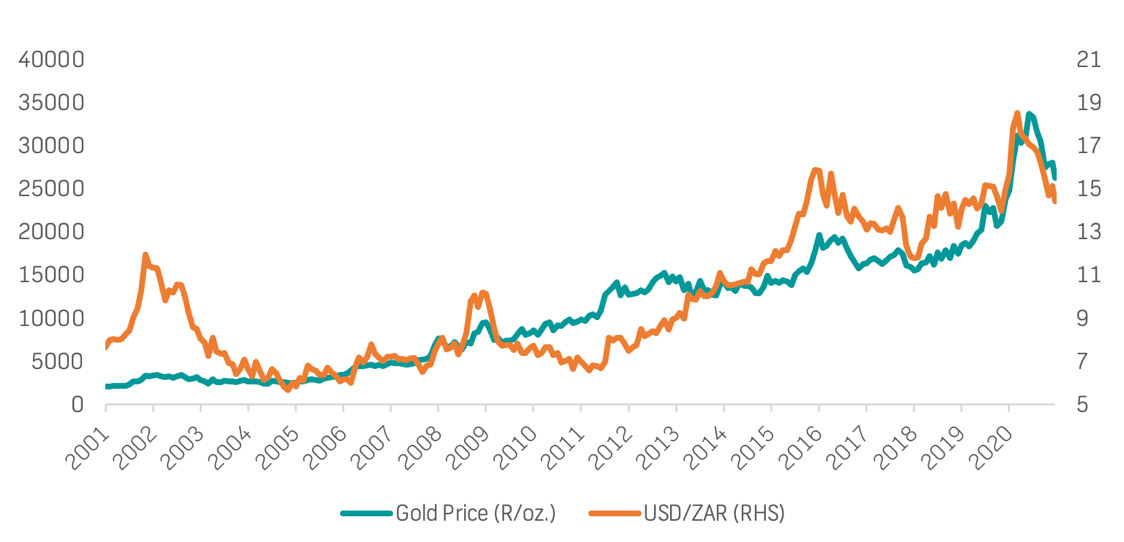 Source: Bloomberg
There are multiple ways to obtain exposure to gold. One can invest in gold mining shares, gold exchange-traded funds (ETFs) and directly through Krugerrands.
Direct shares: Investing in gold company shares on the JSE is one way of obtaining exposure to the gold price. The change in the gold price will affect the profitability of the company and, in turn, its share price. There are, however, other factors that must be considered like operational risks (strikes, poor capital allocation, etc.). There are many gold companies locally and globally to invest in to gain gold price exposure.

Gold ETFs: Gold ETFs track the price of gold in a specific currency. For example, the Absa New Gold ETF is listed on the JSE and tracks the rand price of gold. Absa will physically own the gold that is being tracked by the index.

Krugerrands: The Krugerrand is a South African gold coin. Krugerrands were first minted in 1967 to help market South African gold. The coins have legal tender status in South Africa but are not intended to be used as currency. New Krugerrands are issued by the South African Reserve Bank (SARB). Krugerrands are essentially an ounce of gold and can be directly translated to the global price of gold in rand terms. Krugerrands can be purchased through FNB and investors' coins will be stored safely at Rand Refinery. Further to this, if your coins are stored with Rand Refinery, FNB guarantees to buy back your Krugerrands at any time making this an extremely liquid asset that can easily be converted to cash.
Gold performed extremely well in 2020 and can assist in balancing risk in a portfolio. Exposure to gold during the fall in markets at the beginning of last year would have seen investors softening the blow of the market pull back due to favourable gold returns. Gold is not an asset to be considered by investors looking for large returns over night, but rather a place of safety hedging against negative market events and a weaker currency.