The most convenient way to pay with
---
Tap to Pay
Make your next payment seamless, contactless, cardless and cashless with FNB Pay. #JustTap your Android smartphone to conveniently and securely pay on the go.
Get started
Buy your device from FNB Connect or the eBucks shop.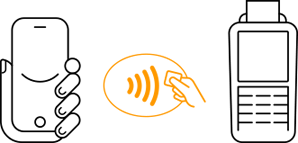 It's safe and secure
Leave your cash and cards behind. Eliminate the risk and just tap your device wherever you are. With safety we're talking tokenisation, passcodes and PINs. No wonder it's super secure to tap your device to pay.
The most convenient way to pay with
---
Scan
to Pay
Pay from your smartphone using the FNB App to scan most local payment QR codes including Masterpass, Zapper, PayFast etc.
Shop seamlessly with
---
Checkout
Enables you to make secure and frictionless online payments.
Getting it made easy
---
FNB Pay
First National Bank - a division of FirstRand Bank Limited. An Authorised Financial Services and Credit Provider 1929/001225/06 (NCRCP20).