Agricultural Business Account
Cultivate + grow
For businesses with farming or other agricultural related operations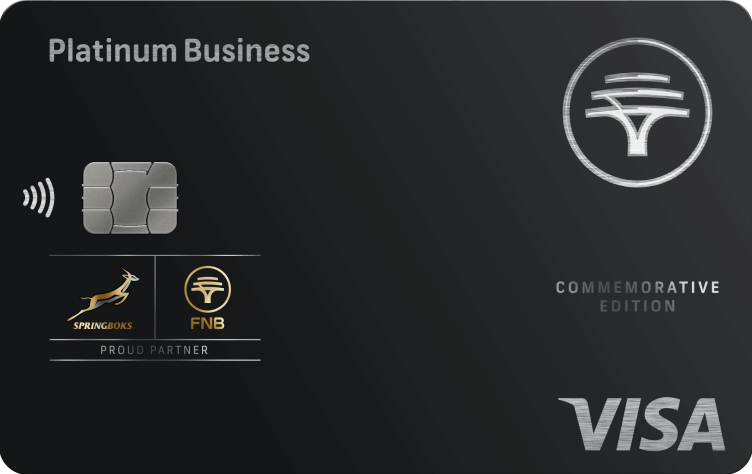 We'll give you a Platinum Business Debit card

Register your business on CIPC through FNB

Debit order and recipient switching

Earn and spend eBucks Rewards for Business

FNB Business Visa Debit Card
Purchase goods and services locally and internationally

Issue restricted functionality debit cards
Empower your staff by issuing them with a limited-function debit card with restricted functionality to protect your business information and funds in the account

Issue full-functionality debit cards
Full-function cards can be issued and linked to the business's accounts allowing the card holder to withdraw cash, pay at point-of-sale devices, obtain balances/mini-statements at FNB ATMs and perform transfers between accounts

Transact electronically
You can easily make once-off and recurring transfers and payments as well as debit and stop orders using Online Banking for Business.
Rewards
---
Earn + spend with
our rewards
---
Qualifying FNB Business Visa Debit card holders have access to the award winning SLOW Domestic Lounges and SLOW International, a place where the stresses of travelling can be momentarily forgotten and to SLOW in the City, a home and office in a space to connect and create at discounted rates.
Find out more
eBucks Rewards for Business gives qualifying FNB Business card holders the ability to earn and spend eBucks as a reward for banking with FNB. The eBucks Rewards for Business programme has been improved and provides more ways for businesses to earn and spend eBucks.
Find out more
Business Overdraft
---
Don't be caught short
on cash
---
The Business Overdraft facility is linked to your Business Account and provides the ability to make payments even when there are no cash funds available in your account, thus avoiding penalty fees and additional charges. You only pay for your overdraft, when you use it and there is no minimum monthly payment as long as you remain within the agreed limits.


Register with CIPC
---
Register a company + open a bank
account simultaneously
---
FNB will help facilitate your CIPC company registration and provide you with a business account and the tools needed to grow your business.
To operate a company in South Africa, the company must be registered with the Companies and Intellectual Property Commission of South Africa (CIPC) prior to commencing business.
FNB in partnership with the DTi has launched a process that gives a person wishing to register a company a simpler, quicker way to register the company with CIPC. FNB will register a company with CIPC on your behalf and will simultaneously open a business account for the new entity providing all the added benefits and value adds that come with a FNB business account. All this is done online in the comfort of your own home.
FNB Business Call Account
---
Plan your cash flow effectively
---
The FNB Business Call Account links to your Business Account, allowing you to ring fence funds away from your main transactional account for provision or saving purposes. This helps you manage your cash flow by allowing you to provide for your PAYE, VAT, staff bonuses and other short-term business obligations.
The FNB Business Call Account allows you immediate access to your funds, by transferring between your FNB Business Call Account and your Business Account.

Convenience
Keep track of your business transactions electronically with email statements, delivered to your inbox for FREE.

Switching made easy
We will help you switch your recipients and debit orders.

Roadside Assistance
Get linked Petrol Cards with FREE Roadside Assistance for roadside emergencies.

Industry specific banking services
FNB has specialised products and services which are tailor-made to suit the banking needs of specific industries.

Security
Create a secure password with Online Secure for FREE to ensure that online transactions on third-party websites are secure.

Added value
Instant Accounting enables you to do your business's financial reports for FREE.
Create & pay with your own
virtual card
---
The FNB Virtual Card on the FNB App is a faster, safer and more secure way to pay for online
and in-store purchases wherever you are in the world. You can also create an unlimited
number of cards at no additional cost to use as you need them.
It's safe
Your CVV number changes every hour. Create, cancel, delete or block your card at any time.
It's convenient
Virtual cards can also be used for FNB Pay (Tap to Pay, Scan to Pay) and all partner wallet transactions, including Apple Pay,
Samsung Pay, Fitbit Pay and Garmin Pay, without the need for a physical card.
Earn eBucks
Choose more value for you and your family and earn eBucks while you spend online
FNB Purchase Protect
Get instant insurance for items purchased with your virtual card at no cost to you
Tell me more
Applying made easy
---
Agricultural Business Account
Documents needed
Copy of recent payslip

South African ID book/card

Proof of residence (in your name, not older than 3 months)

Your passport (if not an SA resident)
First National Bank - a division of FirstRand Bank Limited. An Authorised Financial Services and Credit Provider 1929/001225/06 (NCRCP20).