FNB Gold
---
More help so you can do more
and be more
---
Chasing your full-time goals is a full-time job. That's why FNB Gold gives you full-time help with:
Free unlimited card swipes, transaction notifications and membership to eBucks rewards.

Unlimited day-to-day banking on the FNB App, Online Banking and Cellphone Banking.

The best security to protect your card against fraudulent use online.
View the latest pricing guide
eBucks has been designed to help you get more for your money, with FREE membership and up to 15% back in eBucks every time you swipe your card. Through our eBucks partners, you can do and get so much more through spending your eBucks on whatever you want.

Deposit a minimum of R5500 and log in to your FNB App every month to qualify.
As an FNB Gold customer, a range of other benefits is also available to you.
Banker in your pocket with the FNB App
---
To make things even easier for you, we offer you exclusive products/services and 24/7 help on our app:
All in one place
View balances on your accounts
Make transfers and payments
Access your statements
Buy prepaid airtime, data and electricity



Your security is our priority
We use a number of security mechanisms to prevent fraud on our Banking App.
Helping you nav-igate life
Track your spend and view your credit
status with nav» Money
Buy or sell your home
with nav» Home
Manage your cars, pay fines, renew your
licence disc and more
with nav» Car
We're here for you 24/7
Get real-time help from your eBankers on Secure Chat® on the app.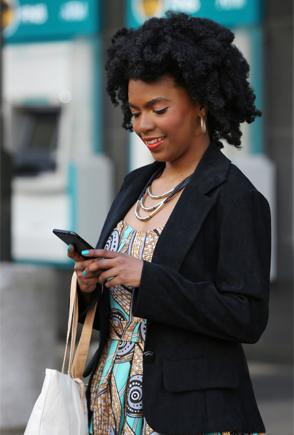 Money management
---
Tips and articles for better financial health
Tips
Simple tips to help you gain better financial habits and choose the right solutions for you.
Articles
Read through a range of articles on how to be moneywise, and so much more.
Let us help you reach your savings goals
---
Whether you're saving for something small or towards your big dream, we're here to help you get started. We understand that sometimes getting started is the biggest obstacle to saving and helping you achieve more. All you need to do is open a Savings Account and start with what you can afford. You'll get a great interest rate, instant access to your savings and pay no fees.

Invest in the long term

Choose a Tax-Free Account, Notice/Fixed Deposit or Shares Account.

Set up automatic transfers into your savings account
Take out the hassle of remembering to transfer money every month with an automatic transfer into your savings account.

Save every time you swipe your card

Activate Bank your Change® and have a top-up amount added into your Savings Account each time you swipe.
Read more
We cater for
the whole family
---
We help you look after more than just your day-to-day banking needs, ensuring that you and your family never need to worry about the future.
Protect yourself and your family from financial burden
Protect yourself and your family against the financial strain of a funeral.
Read more
My long-term financial planning
We can help you identify, prioritise and plan your financial future.
Access to credit when you need it
---
We understand that sometimes you need a little bit of extra help, whether it's dealing with the tough months like January, buying a new home, renovating it or making other major purchases. That's why we offer you a range of solutions to best suit your needs and budget, with a personalised interest rate.
For everyday expenses

Credit Card
Up to 55 days interest free

Free Comprehensive Travel Insurance when you book your return bus, train or plane tickets

Free Automatic Debt Protection
For emergencies

Overdraft
Always there when you need it

You only pay for it when you use it and it stays available for when you need it again
Big purchases and expenses
Personal Loan
Fixed monthly repayments to help you budget

Choose to pay if off over 1 to 60 months

No penalties for early settlement
Buying or building a home

Home Loan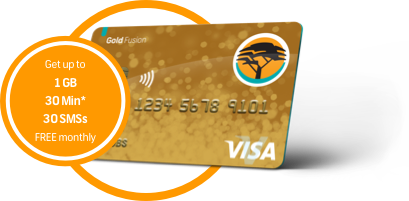 Free data, voice minutes & SMSs
---
Helping you make your
money go even further
---
With your qualifying Fusion Gold account, you get up to 1 GB free data, 30 voice minutes and
30 SMS allocations on your FNB Connect SIM. Just another way FNB gives you more value!
*Free minutes apply to local calls only
Read more on how to get full benefit
Helping you made easy
---
We're here to help
For any questions, queries or information:
Chat to us any time, day or night, on Secure Chat on the FNB App

Or

Call our dedicated Gold Service Suite on 087 575 4653
First National Bank - a division of FirstRand Bank Limited. An Authorised Financial Services and Credit Provider 1929/001225/06 (NCRCP20).