Does your bank help you start, run and grow your business?
---
As Best Business Bank for seven years running, we have proved that our offering can ensure stability and flexibility in your business. FNB Business gives you access to tools designed to steer your business in the right direction.
Now you can
---
Start, run and grow your
business on the app
---
Up your business skills for free with Fundaba
---
Fundaba, a free interactive business education platform on the app, is like a free business coach in the palm of your hand. It's a first-of-its-kind offering in South Africa, with multimedia content such as videos podcasts, quizzes and tools for anyone who wants to learn about entrepreneurship and how to start, run and grow a business.
Fundaba is made by South Africans for South African businesses, available on the FNB App.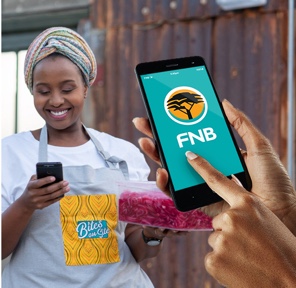 First Business Zero Account
---
Pay zero monthly account fee with a First Business Zero, a digital business bank account designed specifically for sole proprietor businesses with an annual turnover up to R5 million.
Open a First Business Zero on the FNB App within a few minutes.
Start your business with the right tools
---
For superior operational performance, card payment acceptance solutions and high performance transaction authorisation at the right price, you can rely on our Merchant Services.
Run your business
---
No matter how enthusiastic you are about your business ventures, you need a plan, a goal and the right finance to achieve success. We have a broad selection of trusted financial solutions that will help you lay a firm foundation and expand internationally.
Solutions to grow your business
---
Our expertise will assist you in understanding your business needs, the risks involved and help you
choose the products that will support your goals. We will help you get all elements in place so you can
provide a great service, reap the rewards and grow.
Applying made easy
---
Business Account from FNB
Qualifying criteria
Available to businesses with a turnover that
ranges from R0 to over R60 million per annum.
Documents needed
Download the app and sign up now on iOS and
Android


First National Bank - a division of FirstRand Bank Limited. An Authorised Financial Services and Credit Provider 1929/001225/06 (NCRCP20).