Day-to-day banking
Easy
Account
16+ years and no minimum income required
This means you could have the value for money, everyday kind of bank account.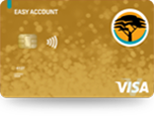 Easy Account on Bundle Pricing Option at R49*


Pay as you use at R4.95*
FNB rewards you with Money to Save
---
You will now receive money back into a FREE Linked Savings Pocket

You will be rewarded with a fixed amount of money every month and that amount increases as your reward level increases

FNB Easy Account (Bundle Pricing Option) will also earn between R1 and R5 back for every R100 spent on your qualifying Checkers and Shoprite purchases.
Linked Savings Pocket
---
Turn your cents into rands
The Linked Savings Pocket is a free, interest-earning savings account that is linked to your transactional account or cheque account − while earning an excellent interest rate at the same time. This way, you can start saving for the things you want.
You also have the option to Bank Your Change® every time you swipe. That's where we round your card purchase up to the nearest rand and transfer the difference into your Linked Savings Pocket. This means that you save every time you swipe.
Get access to credit
---
Too much month at the end of your money?
Cross-border payments
---
Send up to R3 000 using Cellphone Banking
Account features
---
What's hot

eWallet
Allows anyone to send money to anyone with a valid South African Cellphone number.
Read more

Free cash withdrawal
Cash@Till® allows you to use your Cheque Card to withdraw cash at specic till points.
Read more

Linked Savings Pocket
Save easily and conveniently with no added fees. The Linked Savings Pocket is linked to your account.

Free Bank your Change®
Automatically save your 'left over' cents when you swipe your FNB Cheque or debit card.
Read more
Simple account management
---
It's easy, secure + subscription is FREE
Manage your accounts on the go, wherever, whenever you want with Online Banking. Download the FNB Banking App for free and do all your banking the way you've been doing it online and on your cellphone and more.
Applying made easy
---
Easy Account
Qualifying criteria
16+ years and no minimum income required
Documents needed
South African ID book/ID card

Proof of residence (e.g. water, electricity or phone bill not older than 3 months)
First National Bank - a division of FirstRand Bank Limited. An Authorised Financial Services and Credit Provider 1929/001225/06 (NCRCP20).