All-in-one convenience
FNB Fusion
Private Wealth
Your gross income must be R1.8m or more per annum
or have a net asset value in excess of R15 million
The FNB Fusion Private Wealth Account offers you the best value for money by helping you manage your money with a day to day bank account with a linked credit facility.
Maximise your eBucks Rewards earn with ease as you tap, swipe and purchase digitally with your card.
FNB Fusion Private Wealth Account
fee - R499 p.m.
One account, one card

Available in metal

One view of your finances

Deposit and access your funds to pay for your debit orders and payment needs

Up to 30 days interest free on card purchases
A symbol of strength and endurance
---
FNB Fusion Private
Wealth metal card
The exclusive metal card is resilient, durable and comes enabled with tap functionality. Be among the first to order this environmentally friendly metal card which offers a wide range of banking benefits.
FNB Fusion Account benefits
---
Up to 30 days interest free on credit card purchases

Get a personalised debit interest rate on your credit facility

Earn more eBucks rewards

Global Travel Insurance

Access to Online Banking and the FNB App

Bank Your Change with a linked Savings Account

Debt protection on qualifying accounts

Earn up to R8 per litre back in eBucks at Engen

Access to an FNB Fusion Private Wealth Account for your Spouse or Partner, where they can enjoy the same level of service and benefits as you, regardless of their income.
More value with
---
data rewards on your FNB Connect SIM
Get up to 1GB data, 30 voice minutes and 30 SMSs on your FNB Connect SIM plus get rewarded with up to 1GB extra data when you spend R100 or more on your FNB Connect SIM during the month depending on your eBucks level.
*Free minutes apply to local calls only.
Get up to 3x your monthly account fee back in value
---
As an FNB Private Wealth accountholder, you can get more value each month with eBucks. Enjoy free membership to the eBucks Rewards programme and simply qualify to start earning rewards.
Even more ways to earn
Earn additional eBucks with Smart Spend when you use your FNB Fusion Private Wealth Card, FNB Fusion Private Wealth Credit Card, FNB Fusion Private Wealth Debit Card or FNB Pay during the month.
eBucks awarded for Smart Spend will take 2 - 3 business days to reflect in your eBucks account.
Track your Smart Spend and see how many eBucks you've earned during the month by visiting the
FNB App > eBucks > Earn > Smart Spend.
Fusion Account for your Spouse or Partner
---
Private Banking for your
Spouse or Partner
At FNB Private Wealth, we believe that the most valuable thing we can give our clients is our time. As part of this commitment, we have designed an exclusive offering for spouses, to enable your spouse/partner to enjoy the benefits of our private banking and wealth advice too.
50% discount on the monthly account fee for your spouse or partner.
Stay up to date with
---
BusinessLIVE
With news you can trust from leading online newspaper publications.
As an FNB Private Wealth customer who holds a Fusion, Debit or Credit Card you will receive a discounted subscription to a variety of world-class publications such as Business Day, Financial Mail and the Sunday Times.
These respected South African media sources guarantee you credible news, always.
Subscribe and save
The monthly subscription will give you access to:
Business Day e-edition (digital replica of the newspaper)
Financial Mail e-edition (digital replica of the magazine)
Full digital access to the Sunday Times (including e-edition)
New subscribers pay R10 for the first month, and thereafter receive a 50% discount and pay only R174 per month.
Copy and paste this link into your browser to subscribe: https://www.businesslive.co.za/subscribe/fnb/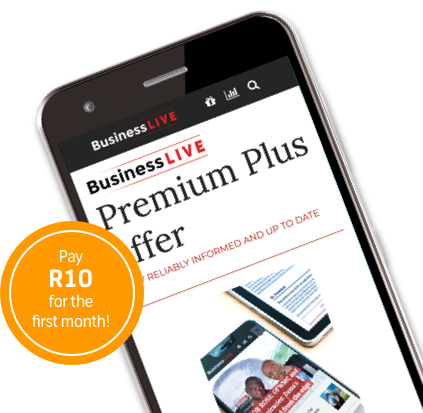 Create & pay with your own
virtual card
---
The FNB Virtual Card on the FNB App is a faster, safer and more secure way to pay for online
and in-store purchases wherever you are in the world. You can also create an unlimited
number of cards at no additional cost to use as you need them.
It's safe
Your CVV number changes every hour. Create, cancel, delete or block your card at any time.
It's convenient
Virtual cards can also be used for FNB Pay (Tap to Pay, Scan to Pay) and all partner wallet transactions, including Apple Pay,
Samsung Pay, Fitbit Pay and Garmin Pay, without the need for a physical card.
Earn eBucks
Make your money go further and earn eBucks while you spend online.
FNB Purchase Protect
Get instant insurance for items purchased with your virtual card at no cost to you
Tell me more
Applying made easy
---
FNB Fusion Private Wealth Account
Qualifying criteria
Annual income of R1.8m or more
With our FNB Fusion Private Wealth Account for your Spouse or Partner, they qualify for the same account as you regardless of their income.
Spousal terms and conditions apply
Documents needed
South African ID book/ID card

Recent payslip

Proof of residence

Three months' bank preset

Foreign nationals will be required to present a work or study permit
First National Bank - a division of FirstRand Bank Limited. An Authorised Financial Services and Credit Provider 1929/001225/06 (NCRCP20).