All-in-one convenience
FNB Fusion
Private Clients
Your gross income must be between R750 000 and R1 799 999 per year.
The FNB Fusion Private Clients Account offers you the best value for money by helping you manage your money with a day to day bank account with a linked credit facility. Maximise your eBucks Rewards earn with ease as you tap, swipe and purchase digitally with your card.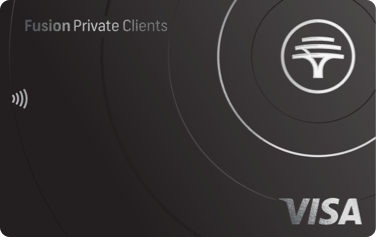 FNB Fusion Private Clients
Account fee - R420 p.m.
One account

One view of your finances

Deposit and access your funds to pay for your debit orders and payment needs

Up to 30 days interest free on card purchases

Maximise your eBucks rewards earn
Up to 30 days interest free on credit card purchases

Get a personalised debit interest rate on your credit facility

Earn more eBucks rewards

Global Travel Insurance

AA Emergency Roadside Assistance

Debit order protection so you always have funds available for debit orders

Access to Online Banking and the FNB App

Bank Your Change with a linked Savings Account

Debt protection on qualifying accounts

Get a day-to-day transactional bank account with a linked credit facility of up to 30 days interest free on credit card purchases

Earn R4 per litre back in eBucks at Engen and earn up to R8 if your vehicle is financed by Wesbank

Your spouse or partner get 50% off their monthly account fee to have the same account as you- regardless of their income
The interest rate is subject to customer profile and scoring with a minimum interest rate of prime + 1% and maximum of prime to NCA max.
More value with
---
data rewards on your FNB Connect SIM
Get up to 1GB data, 30 voice minutes and 30 SMSs on your FNB Connect SIM plus get rewarded with up to 1GB extra data when you spend R100 or more on your FNB Connect SIM during the month depending on your eBucks level.
*Free minutes apply to local calls only.
Get up to 3x your monthly account fee back in value
---
As an FNB Private Clients account holder, you can get more value each month with eBucks. Enjoy free membership to the eBucks Rewards programme and simply qualify to start earning rewards.
Even more ways to earn
Earn additional eBucks with Smart Spend when you use your FNB Fusion Private Clients card, FNB Private Clients Credit Card, FNB Private Clients Debit card or FNB Pay during the month.
eBucks awarded for Smart Spend will take 2 - 3 business days to reflect in your eBucks account.
Track your Smart Spend and see how many eBucks you've earned during the month by visiting the FNB App > eBucks > Earn > Smart Spend.
Private Banking for your spouse or partner
---
At FNB Private Clients, we believe that the most valuable thing we can give our clients is our time. As part of this commitment, we have designed an exclusive offering for spouses, to enable your spouse/partner to enjoy the benefits of our private banking and financial advice too.
Create & pay with your own
virtual card
---
The FNB Virtual Card on the FNB App is a faster, safer and more secure way to pay for online
and in-store purchases wherever you are in the world. You can also create an unlimited
number of cards at no additional cost to use as you need them.
It's safe
Your CVV number changes every hour. Create, cancel, delete or block your card at any time.
It's convenient
Virtual cards can also be used for FNB Pay (Tap to Pay, Scan to Pay) and all partner wallet transactions, including Apple Pay,
Samsung Pay, Fitbit Pay and Garmin Pay, without the need for a physical card.
Earn eBucks
Choose more value for you and your family and earn eBucks while you spend online
FNB Purchase Protect
Get instant insurance for items purchased with your virtual card at no cost to you
Tell me more
Applying made easy
---
Fusion Private Clients
Qualifying criteria
Annual salary between R750 000 and R1 799 999
With our Fusion Private Clients Account for your Spouse or Partner, they qualify for the same account as you regardless of their income.
Spousal terms and conditions apply
Ways to apply
Apply now!
Other ways to apply
Find a branch
Complete the call me back form
Address FNB Bank City, Cnr Simmonds & Pritchard Street, Johannesburg, 2001
Documents needed
South African ID book/ID card

Recent payslip

Proof of residence

Three months' bank statements

Foreign nationals will be required to present a work or study permit
First National Bank - a division of FirstRand Bank Limited. An Authorised Financial Services and Credit Provider 1929/001225/06 (NCRCP20).