Aspire Current Account | Annual salary between R120 000 to R449 999
---
Get SA's Best Value Account*

*Voted cheapest bank account in its category - Solidarity Bank Charges Report 2022
We're talking unlimited day-to-day banking, borrowing money easily, rewards for banking better, knowing what you pay for every month and saving towards your dream.
Your spouse or life partner can get the all-inclusive Aspire Current at a single, discounted fee.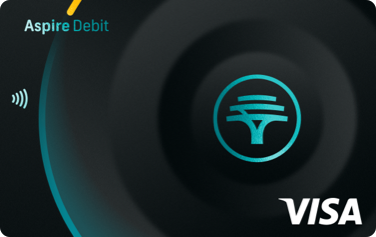 Here's what you get
---
Unbelievable value for only R105 per month

Unlimited banking
Get digital banking, two eWallet sends, inContact, card swipes, electronic transactions and prepaid airtime purchases - safely & conveniently.

Withdrawals and deposits
Cash withdrawals of up to R3 000 pm at FNB ATMs and cash deposits of up to R3 000 pm at FNB ATMs and selected retailers.

More savings
Save with a Savings Account that offers a competitive interest rate and boost your savings with Bank Your Change®.

Credit
Apply for credit and get immediate access for when you need it the most.

Rewards
Enjoy membership to eBucks Rewards and earn eBucks that never expire which you can use towards fuel, shopping and travel.
Read more
More value with
---
data rewards on your FNB Connect SIM
Get rewarded with 500MB, 30 voice minutes and 30 SMSs every month on your FNB Connect SIM when you qualify for eBucks Rewards. Plus get rewarded with an extra 500MB data every month when you spend* R100 or more on your FNB Connect SIM card and qualify for eBucks Rewards at the time that you spend.
*Free minutes apply to local calls only.
Overdraft
Manage your cash flow better with an overdraft
You may qualify for an Overdraft up to an amount of R150 000 to make those payments when you may not have enough cash available in your account.
What's more, you can apply from the comfort of your home through any of our digital channels , meaning you always have enough cash for those unforeseen expenses.
The best part is that you pay no fees for your overdraft if you don't use it.
Subject to affordability
Bring the family
together with Aspire
---
We know how important family is. Which is why we have designed our banking
solutions to help your family 24/7!
Savings Account
Grow your savings easily
Your Aspire account comes with a Savings Account that makes saving easy.
Get a Savings Account and keep your transactions separate from your Aspire Current Account. The Savings Account gives you immediate access to your money, helps you track your saving, makes it possible for you to schedule transfers and allows you to Bank Your Change® every time you swipe your card.
The best part? It gives you a competitive interest rate.
Simple account management
---
Get access toinnovative banking
Aspire gives you access to fast banking via secure digital banking channels.



Loans + Insurance
Aspire for
more
There's more with Aspire - you can apply for short and long-term credit. Short term options include the Temporary Loan. A Personal Loan, Home Loan, Car Finance are some of the options you can apply for under long-term credit.
In addition, your Aspire Current Account allows you to take out insurance. This includes Funeral Insurance, Life Cover, as well as car and household insurance.
Create & pay with your own
virtual card
---
The FNB Virtual Card on the FNB App is a faster, safer and more secure way to pay for online
and in-store purchases wherever you are in the world. You can also create an unlimited
number of cards at no additional cost to use as you need them.
It's safe
Your CVV number changes every hour. Create, cancel, delete or block your card at any time.
It's convenient
Virtual cards can also be used for FNB Pay (Tap to Pay, Scan to Pay) and all partner wallet transactions, including Apple Pay,
Samsung Pay, Fitbit Pay and Garmin Pay, without the need for a physical card.
Earn eBucks
Choose more value for you and your family and earn eBucks while you spend online
FNB Purchase Protect
Get instant insurance for items purchased with your virtual card at no cost to you
Tell me more
Applying made easy
---
Aspire Current Account
Qualifying criteria
Annual salary between R120 000 - R449 999
Qualifying criteria for partner
An FNB Aspire Current Account or Fusion Aspire Account
No annual income criteria for partner
With our Aspire Current Account for your spouse or partner, they qualify for the same account as you regardless of their income.
Spousal terms and conditions
First National Bank - a division of FirstRand Bank Limited. An Authorised Financial Services and Credit Provider 1929/001225/06 (NCRCP20).