Your guide to credit
---
Credit can be a confusing concept to navigate if you aren't that familiar with it. But it can also be a very helpful one, which is why it's worth knowing the basics, so you can benefit from the credit options available to you.
We have almost 50 years of experience with credit cards and are here to provide you with the expert guidance you need to make good financial decisions.
How interest works
---
A credit card's interest rate is the price you pay for borrowing money. With credit cards, the interest rates are typically stated as a yearly rate, which is called the annual percentage rate (APR). You can avoid paying interest on purchases if you pay your balance in full each month.
If you're an FNB customer, you can get a personalised interest rate on your credit card that's based on your credit profile and affordability.
Keeping your funds secure
---
Travelling with your credit card
---
Using a credit card is one of the smartest and most convenient ways to book your return travel tickets and accommodation online.
Your FNB Credit Card is accepted world-wide and offers FREE Comprehensive Global Travel Insurance which provides up to R5 million cover for medical expenses, personal liability cover of up to R1 million+ in the event of accidental death, pre-existing medical conditions, total permanent disablement, cancellations, travel delays and lost, stolen or damaged baggage.
Get the perfect fit
---
Choose a credit solution that suits your lifestyle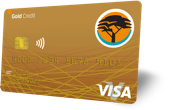 Gold
Annual income
R84 000 - R299 999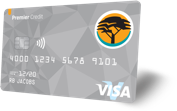 Premier
Annual income
R300 000 - R749 999
Private Clients
Annual income
R750 000 - R1 499 999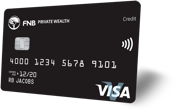 Private Wealth
Annual income
1.5m or more
Applying made easy
---
Get a credit card
Qualifying criteria
Gold: Annual income between R84 000 - R299 999

Premier: Annual income between R300 000 and R749 999

Private Clients: Annual income between R750 000 and R1 500 000

Private Wealth: Annual income of R1.5m or more

Petro Card: Earn a minimum of R80 000 p.a
Documents needed
Copy of your recent payslip

Three months' bank statements

South African ID book/card

Proof of residence
First National Bank - a division of FirstRand Bank Limited. An Authorised Financial Services and Credit Provider 1929/001225/06 (NCRCP20).