FNBy Islamic Transact Account
For youth under 18 years
An account for smart youth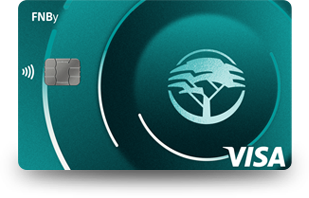 A yCard

Free Online Banking and FNB App subscriptions

Unlimited internal (FNB to FNB)
electronic payments and transfers

Unlimited card swipes

With FNB Connect, you get up to 600MB
back in FNB Connect data when purchasing data,
voice minutes or SMS bundles from your FNBy
Islamic Transact Account

Your FNBy Islamic Account earns a monthly profit share
What you get
---
Prepare for a financially-wise future
---
---
FNBy Islamic Transact Account offers the convenience of having all of your banking in one place. A single transactional account to take care of all of your banking needs, access to benefits and so much more. The FNBy Islamic Account is linked to a parent account.
There are no monthly account fees for the account and it can be used in the same way as any other FNB Islamic accounts.
---
With no minimum balance and a huge range of free functionality, banking has never been easier or more worthwhile:
Unlimited electronic payments and transfers

Free cash withdrawals from selected tills

Pay zero cash deposit fees for ATM and in-branch cash deposits of up to R500 per month

Receive alerts through text messages and emails when a transaction is made via inContact

Be eligible for a monthly profit share
---
FNB Islamic yCard benefits
You gain access to a variety of tailored benefits and features, linked to your FNB Islamic yCard:
Unlimited swipes
Simple account management
---
It's easy, secure and subscription is FREE
Manage your accounts on the go, wherever, whenever you want with any of our our digital banking platforms!
Applying made easy
---
FNBy Islamic Transact Account
Qualifying criteria
Must be a South African citizen

Clients must be younger than 18 years

Parents are required to be registered for Online Banking
Documents needed
If you're under 18 your parent/guardian needs to accompany you and have:
A copy of a parent's valid South African Identity Document

The child's unabridged or abridged birth certificate or a valid South African Identity Document

Proof of residence (not older than 3 months) and a signed declaration of proof of residence per child
First National Bank - a division of FirstRand Bank Limited. An Authorised Financial Services and Credit Provider 1929/001225/06 (NCRCP20).